Executive Partners Group
provides hands-on Consulting Services and
Transition Management Services
under part-time or full-time assignments.
Our involvement may be as Advisor to the company's
Executive Committee
or alternatively as
Advisor to shareholders
, board members or board's special committees.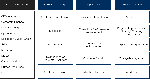 Initiating, managing and securing corporate progress
Senior Advisors Circle
This circle involves
250 Senior Advisors
& Executive Managers with 15 to 20 years' experience at leading companies.
This team of senior-level executives
with expertise in Operations management was assembled to provide expertise across large industry and services sectors and to bring
technical skills
required for the completion of demanding assignments.
Circle of experts with operating experience immediately available to:

Assist managers
Assume on a temporary basis management responsibility to address specific and often complex issues such as digitization, external growth, corporate reorganization, governance, performance improvement programs, overall corporate strategy
EXPERIENCE
Sector expertise
Operational know-how
Management skills
International experience
Technical and functional expertise
Teams empowerment
LEADERSHIP
Strategic flexibility
Cross-functional management
Change management
Management transversal
Ability to address complex issues
Entrepreneurial mindset